Cookies and frosting and candy, oh my! Monster sandwich cookies are the perfect Halloween treat – they're scary good!
I have included my chocolate chip cookie recipe below, but if you prefer, you can buy chocolate chip cookies or use Chips Ahoy.
Monster Sandwich Cookies
Yield: Makes about 10 cookie sandwiches
Ingredients
For the chocolate chip cookies
2 and 1/4 cups flour (281.25 grams)
1 teaspoon baking soda
3/4 cup Challenge salted butter, room temperature
1 cup brown sugar (207 grams)
1 (3.4 oz) package instant vanilla pudding
2 eggs
1 teaspoon vanilla
1 cup semi-sweet chocolate chips
(Plus candy eyes and white chocolate chips for teeth)
For the milk chocolate frosting
1 cup (2 sticks) Challenge unsalted butter, softened to room temperature
3 and 1/2 cups (441 grams) confectioners' sugar
1/2 cup (50 grams) unsweetened cocoa powder
1/4 teaspoon salt
2 teaspoons pure vanilla extract
3 Tablespoons milk
Directions
For the cookies
Measure flour and baking soda in medium bowl. Combine and set aside.
In large bowl, cream butter and brown sugar together until light and fuffy.
Add instant vanilla pudding package and beat until well blended.
Mix in eggs and vanilla.
Slowly add flour mixture to butter mixture until just incorporated.
Fold in chocolate chips with a spatula.
Cover dough and chill in refrigerator for at least one hour.
Remove dough from refrigerator.
Preheat oven to 350 degrees Fahrenheit.
Roll dough into balls (the size of 2 tablespoons) and place on greased baking sheet or silicone baking mat.
Bake for 8 to 10 minutes.
Remove from oven and cool on cookie sheet for several minutes before moving to a wire rack to cool completely.
For the frosting
With a handheld or stand mixer fitted with a paddle attachment, beat the butter on medium speed until creamy – about 2 minutes.
Add the confectioners' sugar, cocoa powder, salt, vanilla extract, and milk, beating on low speed after each addition.
Once everything is added, beat on high speed until creamy for about 2 minutes.
Spoon frosting into resealable plastic bag or piping bag. Cut 1/2 inch off one corner of bag, and pipe and ample amount of frosting on bottom of 1 cookie.
Place another cookie on top and press down at an angle so cookies look like an open mouth.
Use extra frosting to attach candy eyes and place white chocolate chips in frosting to look like teeth.
Recipe courtesy of Kylee Wierks of Kylee's Kitchen
---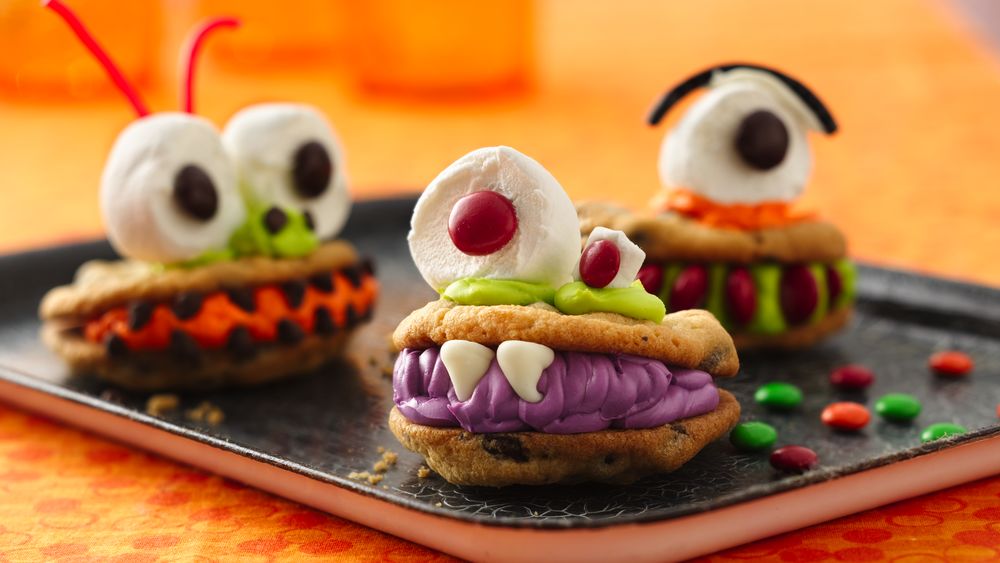 Ingredients
Cookies
1 – package (16 oz) Pillsbury™ Ready To Bake!™ refrigerated chocolate chip cookies (24 cookies)
1 1/4 – cups white vanilla baking chips
1 – container ready-to-spread frosting (any white variety)

Gel food colors, if desired
Decorations, if desired
Red or black string licorice
Miniature semisweet chocolate chips
Large marshmallows
Candy-coated chocolate candies
Heat oven to 350°F. On ungreased cookie sheet, place cookie dough rounds 2 inches apart. Bake 12 to 16 minutes or until edges are light golden brown. Cool 2 minutes; remove from cookie sheet to cooling rack. Cool completely, about 10 minutes.
Meanwhile, in medium microwavable bowl, microwave 1 cup of the white vanilla baking chips uncovered on High 45 seconds. Stir; if necessary, microwave in 15-second increments, stirring after each, until chips can be stirred smooth. Cool 5 minutes. Stir in frosting until well blended. Reserve 2 tablespoons of the frosting mixture to attach decorations. Use gel food colors to tint remaining frosting in desired colors. Spoon each color of frosting into resealable food-storage plastic bag. Cut 1/2 inch off one corner of bag, and pipe on bottom of 1 cookie. Press another cookie, flat side down, on frosting at an angle, cookies touching on one side and about 1 inch apart on the other, to look like open mouth.
To decorate, press remaining white vanilla baking chips in frosting for teeth. Use reserved frosting mixture to attach eyes, using decorations as desired.