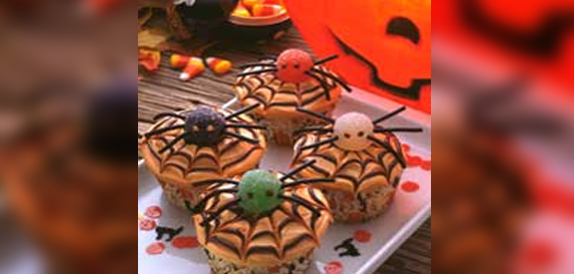 Perfect for a Halloween party, these rich, chocolaty cupcakes are fun to make.
Heat oven to 350°F (325°F for dark or nonstick pans). Make and cool cupcakes as directed on box for 24 cupcakes.

Tint frosting with red and yellow food colors to make orange frosting. Spread frosting over tops of cupcakes.

Squeeze circles of decorating gel on each cupcake; pull knife through gel from center outward to make web. To make each spider, roll out 1 gumdrop and cut out 8 strips for legs; place another gumdrop on top. Place spider on cupcake. Store loosely covered.
Tips
Turn these into Holly Wreath Cupcakes by using green-tinted frosting instead of orange. Squeeze circles of red decorating gel on each cupcake, and decorate with small red cinnamon candy berries.
Get the kids to help! Kids can make spider legs without cutting by pinching and gently rolling gumdrops back and forth between their fingertips into long thin strips. The more they roll them, the stickier they become, so have extra sugar handy to make them less sticky.
If you have only one pan and a recipe calls for more cupcakes than your pan will make, cover and refrigerate the rest of the batter while baking the first batch. Cool the pan about 15 minutes, then bake the rest of the batter, adding 1 to 2 minutes to the bake time.
Nutritional Facts
Serving Size: 1 Cupcake (Cake and Frosting Only) Calories190 ( Calories from Fat80), Total Fat9g (Saturated Fat2g, Trans Fat1g ), Cholesterol25mg Sodium200mg Total Carbohydrate27g (Dietary Fiber0g Sugars18g ), Protein1g ; % Daily Value*: Vitamin A0%; Vitamin C0%; Calcium4%; Iron4%; Exchanges:1/2 Starch; 0 Fruit; 1 1/2 Other Carbohydrate; 0 Skim Milk; 0 Low-Fat Milk; 0 Milk; 0 Vegetable; 0 Very Lean Meat; 0 Lean Meat; 0 High-Fat Meat; 1 1/2 Fat; Carbohydrate Choices:2 *Percent Daily Values are based on a 2,000 calorie diet.